For passengers travelling with children, their time at the airport should be as short and problem-free as possible. The following information will help you plan and carry out your journey with a child or children via Stuttgart Airport.
Prams and car seats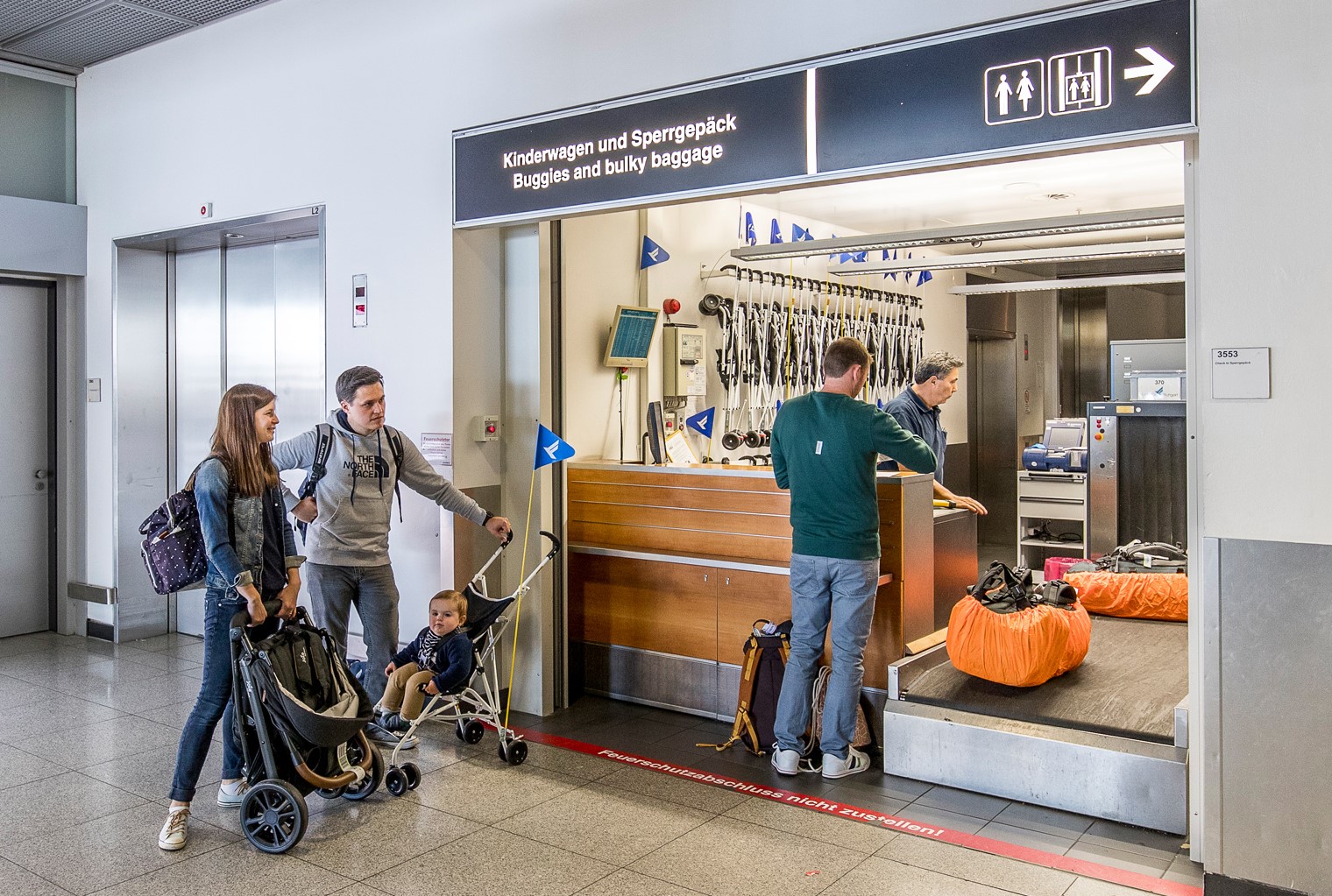 Prams, baby buggies or car seats must normally be handed in as oversize luggage after check-in. Some airlines let you use car seats on the plane. Please ask the airline about this directly. When taking items with you, please note that the screening equipment at the security check is designed to handle objects up to a size of 60 cm x 40 cm.
Baby-care rooms
At the airport, there are nearly 20 baby-care rooms in the public area, as well as in the gate area, where you can take care of your child. Some rooms also contain bottle warmers.
Shopping and dining
You will find an overview of the shops and restaurants at the airport here.
Baby food, medicine, doctors
Edeka supermarket, located on the Arrivals Level of Terminal 3, offers a wider selection of foods for small children. Medication and pharmaceutical advice are available at the Aeroatoll pharmacy in Terminal 2, on the Departure Level. In addition, the Airport Medical Centre team in Terminal West, on the Departure Level, is available to answer any medical questions you may have.
The Bundespolizei (Federal Police) can give you information about the rules for taking baby food (for children up to 24 months) and medicine on board in your hand luggage.
Play and discover
If you want to keep your kids busy while waiting for your flight, there are several options:
Travel documents
From birth, children need to have their own travel document when travelling abroad with you. Passport information for children under the age of 12 and other travel documents for children can be found at these locations:
Federal Ministry of the Interior
Federal Police
UNACCOMPANIED MINORS
Airlines provide an unaccompanied minor service for children travelling alone. Please contact the airline directly if you wish to make use of this service.
EXPECTANT MOTHERS
We recommend that expectant mothers discuss their flight plans with their doctor or midwife and ask their airline about their specific rules for travelling while pregnant.