The EDEKA shop's assortment of nearly 8'000 products covers for all daily needs and is therefore especially tailored to the needs of air travelers and employees at the airport.
There is not only a large self-service area with meat and sausage products as well as cheese, but also a wide range of fruit and vegetables and many products of local growers.
For hurried customers there is a wide range of convenience offers like for example pre-cut fruit and gourmet salads and there's also a juicer for fresh vitamins on the go.
The specialty bakery Treiber offers a variety of fresh rolls, bread, and sweet pastries at the bakery Counter.
24/7 shopping is now possible at EDEKA. The new self-checkout-system allows you to shop here around the clock, every day.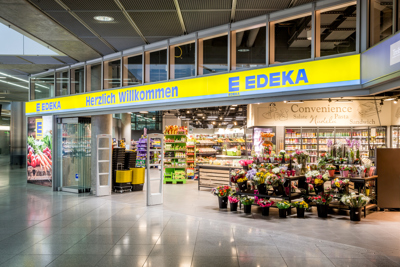 Terminal 3, Arrivals
In the public sector
+49 711 78285849
On Sundays and public holidays you will receive a discount of 1€ for purchases of 10€ or more and a discount of 2€ for purchases of 20€ or more (excluding cigarettes and tobacco products).
| | | |
| --- | --- | --- |
| Monday | 06:00 - 22:00 | 22:00 pm-06:00 am Self Service |
| Tuesday | 06:00 - 22:00 | 22:00 pm-06:00 am Self Service |
| Wednesday | 06:00 - 22:00 | 22:00 pm-06:00 am Self Service |
| Thursday | 06:00 - 22:00 | 22:00 pm-06:00 am Self Service |
| Friday | 06:00 - 22:00 | 22:00 pm-06:00 am Self Service |
| Saturday | 06:00 - 22:00 | 22:00 pm-06:00 am Self Service |
| Sunday | 06:00 - 22:00 | 22:00 pm-06:00 am Self Service |