The new Airport Lounge awaits you in the security area, where you can spend the time until departure viewing the apron in a quiet atmosphere. In an area of 150 square metres, there are 42 seats and free Wi-Fi. Part of the lounge is also a bistro which offers a wide range of drinks as well as hot and cold dishes depending on the time of day. A special highlight: numerous pictures and objects from almost 100 years of Stuttgart Airport provide historical flair.
Security area, terminal 3, gallery
Price: 29.50 euros, children aged 3-11 years 19.50 euros*
*Free use for: HON status members of the Lufthansa Group (LH, LX, OS, EW); KLM, Air France, ITA Airways and Air Baltic business customers; selected members (Elite Plus) of KLM, Air France and ITA Airways. Children up to and including 2 years.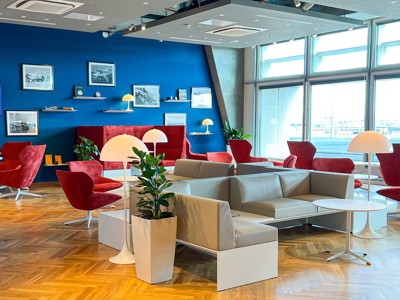 Airport Lounge
Terminal 3, Gallery
Inside security area
| | | |
| --- | --- | --- |
| Monday | 05:00 - 21:30 | opening hours can deviate |
| Tuesday | 05:00 - 21:30 | opening hours can deviate |
| Wednesday | 05:00 - 21:30 | opening hours can deviate |
| Thursday | 05:00 - 21:30 | opening hours can deviate |
| Friday | 05:00 - 21:30 | opening hours can deviate |
| Saturday | 05:00 - 21:30 | opening hours can deviate |
| Sunday | 05:00 - 21:30 | opening hours can deviate |