Whether textile cleaning, laundry, shirt service or tailoring - Textilpflege Barth has been dealing with textiles and clothing of all kinds since 1972. In addition to the shop at Stuttgart Airport, the family business has four other locations: Leinfelden, Echterdingen, Stuttgart-Rohr and Neuffen.

If you hand in your clothes before departure, you can collect them on the way home.

The Textilpflege Barth team looks forward to seeing you!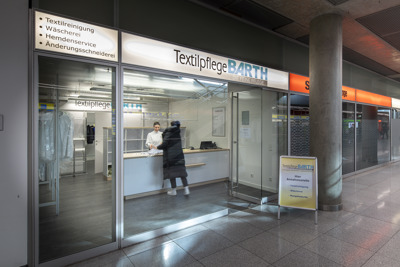 Textilpflege Barth
Monday
09:00 - 16:00
Tuesday
09:00 - 16:00
Wednesday
09:00 - 16:00
Thursday
09:00 - 16:00
Friday
09:00 - 16:00
Saturday
Sunday